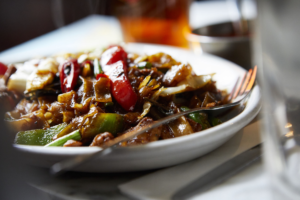 "Just eat first." She said to me.
I stood in the center of her restaurant, overwhelmed. The trust that she bestowed upon me shook me.
It was before the lunch rush. Having the habit of rising up and exercising very early in the morning often leads to violent complaints by my stomach before noon. My mind was particularly occupied that day. By what? You might ask. That would be an independent and long blog itself. So I shall indulge you with your own curiosity.
I drove to this little unnoticeable Thai restaurant in Silicon Valley, parked in its very limited parking area. Got out of the car. Locked the car. Immediately felt my hands were empty. The left pocket of my coat was dragging down heavily with a book. Where is my little green purse? Oh, damn fool, you are! You came out to have lunch but forgot to bring card or cash! All right, all right! Stop criticizing me! Shall I drive back to get my purse? No way that I would come out again. Time is far more valuable than anything else! Hmmm, what shall I do? I do not want to starve either. Ah ha, I have my phone with me, do not I? Let me ask whether the restaurant takes paypal payment. I doubted such a little place would accept e-payment though.
With that doubt in mind, I walked into the empty restaurant. No one was there. I could hear some sound from the kitchen, but no one in my sights. Ok, really, you should leave before making this foolish situation embarrassing. Oh, no, let me check! I said: "Hello!" A young lady came to my view. "Hi, I came here to have lunch but found out that I had forgotten my purse. Would you accept paypal?" "Hmm, no." She was going to check whether the restaurant accepts Apple Pay. But then turned around and said "just eat first."
Shocked, overwhelmed, immensely grateful for her trust. I attempted to resume reading a book I brought with me, but could not. She trusted that I would come back and pay for the food, without even explicitly request me to do so. Being trusted by a stranger like this brought me a very powerful sensation. So many thoughts were racing in my head.
Did you just notice that I brought my book with me, but not money for lunch? I already said that I was mentally occupied though.
Her clear demonstration of trust towards me was so powerful, partially because to some extent our world is deprived of trust, both in life and work. In our professional worlds, every day we work hard to earn the respect and trust from people. Many times I would spend dozens of hours in preparation for an hour important meeting, some times might stretch to over one hundred hours if it is so critical. I would think deeply about the possible ways that my thinking might be flawed about some topics. I would invest every resource I have to do well in the subjects of my choice. When being evaluated by others, we often do not have a clear picture of: Do they trust our competence? Do they see the values of our contribution? Do they envision our potentials a quarter as big as our own ambitions and what we picture for ourselves?
Most of us strive to be trusted, to be respected, in all aspects of our lives. We are so hungry for that, far more so than for any food. Her offering of a lunch (Pad Kee Mao) to me fills up not only my stomach, but also some part of the void in my inner being. She trusted and respected me. How amazingly wonderful it made one feel!
I went back to pay what I owed her and asked for Pad Kee Mao again, for dinner this time. Pad Kee Mao is also known as No. 16 on the menu of my favorite pub The Churchill Arms in Kensington Church Street. It is the dish of trust to me now.